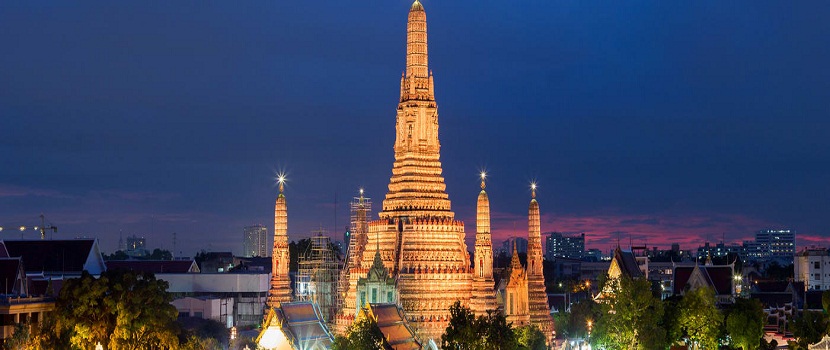 Tucked in the Indochinese peninsula of Southeast Asia, Thailand is known for its striking beaches, ancient Buddhist temples, regal palaces, spectacular mountains, vibrant cities, alluring towns, and wildlife national parks. Furthermore, with a wide array of experiences, including adventure activities, lazy sojourns, scenic views, and natural beauty, a trip to Thailand has something to offer to everyone. Whether you love to travel with your family or want to spend time with your loved one or want to travel alone to be in yourself, there is no better place than Thailand. Many Thailand tour packages are offered by the travel companies in India, which have been curated in such a way that you get to explore the best of Thailand. These tour packages for Thailand take travelers through a plethora of temples, wildlife sanctuaries, shopping malls, bars, pubs and tropical beaches here and help them to explore the place to a great extent.
This popular Southeast Asian country is home to some of the most wonderful beaches and as well as party towns. Some of the popular cities that one must visit on a trip to Thailand include Bangkok, Phuket, Pattaya, Krabi, Khao Lak, Ko Samui, Hua Hin, etc. People who wish to experience the best of beaches and islands should plan their visit to Krabi, Phuket, Coral Islands, Phi Phi Islands, etc. With so much to offer to the visitors, Thailand is one of the most famous tourist destinations which are ideal for all types of travelers ranging from honeymooners to families, and friends as well. You can also take a Thailand family luxury tour package to explore the best of the destination in the most luxurious way with your family. So, plan a perfect Thailand itinerary with travel companies offering Thailand tour packages from India, and quench the thirst for a breathtaking experience in this wonderful place. When you are searching for Thailand tour packages, make sure your itinerary consists of some of its highlights-
The Street Life Of Thailand:
A Thailand trip is incomplete without experiencing the street life in Thailand. You must try the Bangkok street-style noodles around the corner on a busy street while on your trip. Not just the traditional Thai cuisine, you will find every possible international cuisine in Thailand rendered to perfection using the local produce across its cafes, restaurants, bistros and patio bars. You can stroll down the narrow lanes of Chinatown and enjoy a bowl of prawn wonton soup. You can get a chance to see the Chinese opera in the street. You can shop for some fascinating artifacts from the Amphawa Floating Market. You can also go for a boat or bike ride through it. Sukhumvit area in Bangkok is perfect to enjoy some cocktails at a tony bar and see the world go by.
The Beaches In Thailand:
The main element of a Thailand tour package is the beaches. Whether you are a couple, backpacker, a large group, a luxury seeker or a family traveling with a child, love to explore the exotic beaches in Thailand. With intact coastline, unrevealed coves, limestone karts make the beaches a favorable place for some swimming, diving, sea cave exploration, snorkeling, etc. Railay Beach, Phra Nang Beach – Krabi, Karon Beach – Phuket, Kata Beach – Phuket, Khao Lak, Phi Phi Don – Koh Phi Phi, Chaweng – Koh Samui, Bophut – Koh Samui, etc. are some of the popular beaches in Thailand.
The Culinary Scene In Thailand:
Vacations in Thailand are incomplete without enjoying the delicious seafood here. Thai cuisine is one of the most sought-after cuisines famous for its cooking technique, subtle flavors, and light-to-digest quality. Thai people love chilies in their food. The Thai chilies are also served separately as a course and as a fiery chili dip. The flavors are strong and perfectly balanced and give you a delight whether you are having Bangkok-style noodles at Bangkok, enjoying grilled lobsters or fried scallops at Phuket, or having seafood pasta at one of the open-air Greek and Mediterranean restaurants in Pattaya. You can enjoy all sorts of taste and aroma from Burmese market stalls, cheap street-side Chinese, or from an instant meal of sticky rice with lemongrass-kissed Thai chicken curry.
The Temples In Thailand:
A Thailand tour is incomplete without visiting its ornate temples. As Thailand is a Buddhist country, it is home to some stunning Buddhist temples that are both colorful and unique in their architecture. Some of the famous temples in Thailand are Temple of the Reclining Buddha in Bangkok, White Temple (Wat Rong Khun), Wat Phra That Doi Suthep in Chiang Mai, Wat Chaiwatthanaram, Wat Arun in Bangkok, Wat Mahathat, etc. The deeper you travel into this beautiful land, the more you can discover the unique traditions and customs of this place.